What is in the box ?
Overview
Asycube sets new standards in small part feeding. Its 3-axis vibration technology allows fast and flexible feeding of small parts (0.1 mm to 150 mm) to a robot and a vision system.
The core of Asycube is a platform that can vibrate in three orthogonal directions. By selecting appropriate vibration signals, a high flexibility in displacing parts on the platform is reached (forward, backward, side wise) and flipping is made possible.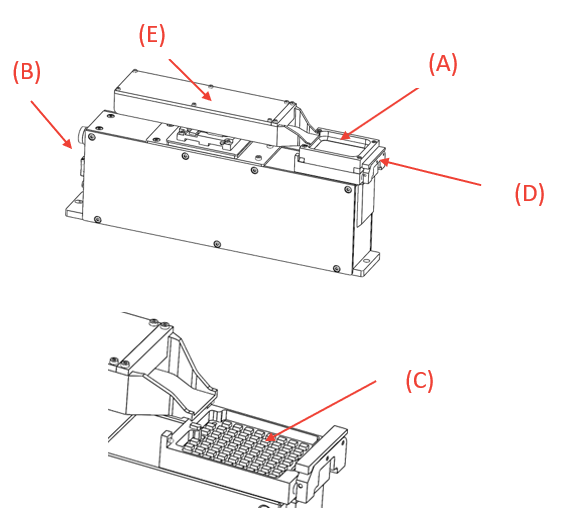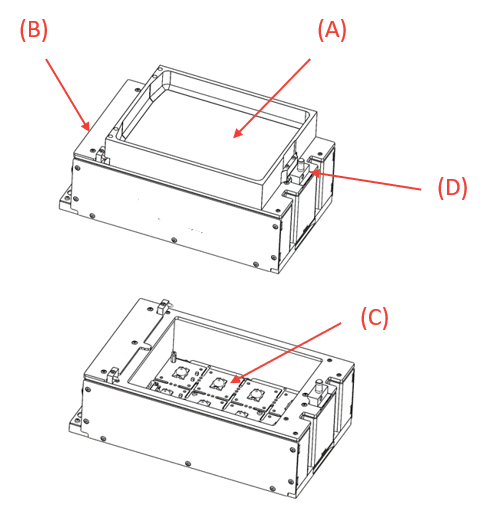 It consists of:
(A) Vibrating platform (optional).
(B) Electrical Interfaces (communication, power supply, I/Os…).
(C) Integrated Backlights (optional) that allows an easy recognition of the parts from a camera placed above. For more information on the backlight color and the procedure to exchange the backlight, please refer to Exchanging/installing the backlight.
(D) Integrated mechanism allowing to Remove the platform module easily without additional tooling.
(E) Removable hopper where the components are stored (optional) ( for the Asycube 50 and 80).
Note
For more information on the procedure to control the platform vibrations, please refer to Asycube Studio.
Optional items
Depending on your application, the following optional items may be needed:
Cables for Asycube connection, backlight synchronization, input/output and power.

Gateway for Fieldbus communication
Important
If the items received do not match to your order or are damaged, do not sign the receipt. Contact Asyril as soon as possible.