Warning
You are reading an old version of this documentation. If you want up-to-date information, please have a look at
2023.9
.
Custom platform
A custom platform is necessary to orient the part correctly when the natural resting position of the parts does not match the picking orientation. Specific platforms can be designed to include grooves, holes, pockets, etc.
Note
Bespoke platforms are developed on demand by Asyril Support team. For more information, contact us.
While Standard plate are delivered with the Fixation kit (the frame for Asycube 380/530), must be ordered in addition to custom platforms.
Grooves
A structured platform with deep grooves is used to supply screw-type components to be fitted vertically. A platform with non-traversing grooves is used to supply components with a maximum length of 60 mm, see Fig. 43. For longer parts, grooves are manufactured through the whole thickness of the plate, see Fig. 44.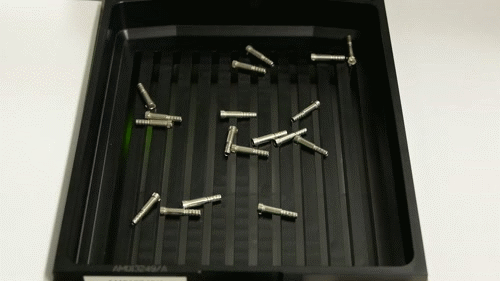 The width of the groove(d') is determined by the diameter of the component (d). In general, 0.05mm to 0.1mm is added to the maximum diameter size (allow for tolerance!). The tolerance on the width of the groove, which will depend on the machining and is not identical on all sizes of Asycube, must also be taken into consideration. A 0/+ tolerance is preferred.
The depth of the groove (L') is usually not very important because the workpiece does not rest on the bottom. It must therefore be large enough to allow the part to tip and not touch the bottom. For the tolerance, a 0/+ tolerance is usually used.


| | d' | L' |
| --- | --- | --- |
| Asycube 50 | d + 0.05mm | L' > L |
| Asycube 80 | d + 0.05mm | L' > L |
| Asycube 240 | d + 0.1mm | L' > L |
| Asycube 380 | d + 0.5mm | - |
| Asycube 530 | d + 1.0mm | - |